It may sound strange, but honey-fermented garlic is fantastic. There is something special about the combination of garlic and honey that brings food to life. It excels in marinades, shines on charcuterie boards, and does wonders drizzled on a wedge of baked brie.
Not only is it delicious, but it is also a healthful food to add to your diet. Garlic has been acknowledged for its health benefits for centuries and prized for its antibacterial and antiviral properties. Honey is also antibacterial and moisturizing for soft tissue, making garlic-infused honey the perfect help against cold and flu!
Honey Fermented Garlic Recipe
Honey: Use raw, unpasteurized honey - local is best!
Garlic: A few heads of fresh garlic
Jar: Any jar with a lid will work, but I prefer using bail jars like Weck, Fido, or similar brands.
Clean the jar and lid with hot, soapy water, and let them dry completely.
Peel the garlic cloves and add them to the jar until it is about 2/3 full.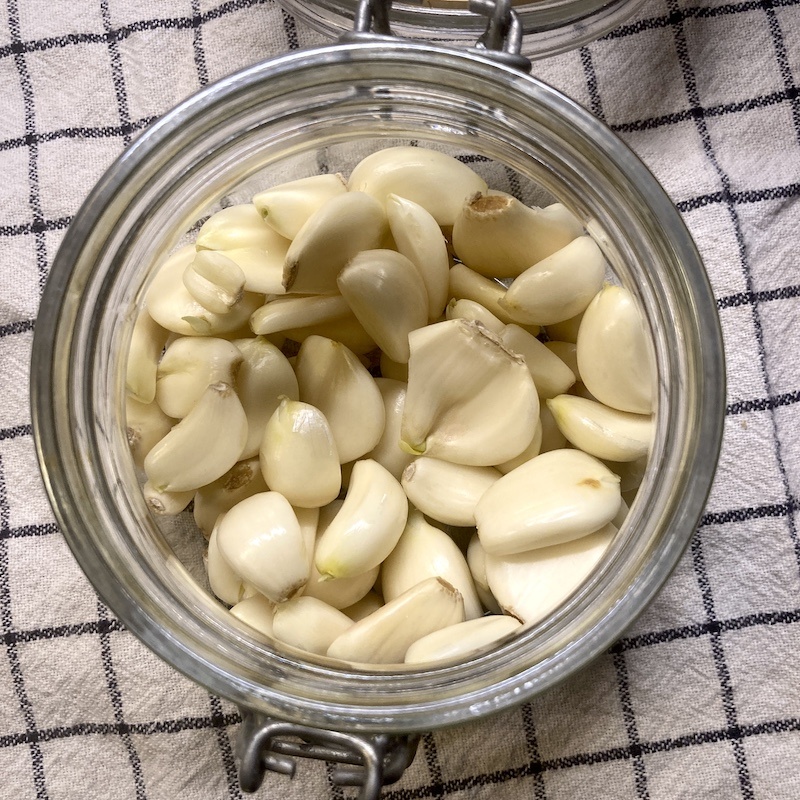 Pour the raw honey into the jar and cover all of the garlic cloves.
Use a clean butter knife to stir, removing air bubbles and ensuring the honey completely covers the garlic. Add more honey to cover the cloves as needed.
Place the lid on the jar. Set it on your counter or a windowsill. 
Allow the honey and garlic to infuse for at least a week. You'll notice lots of bubbles from the fermentation process and the honey will become runny as it absorbs the moisture from the garlic cloves.
At least once a day, open the lid to "burp" the jar, releasing the gas created by fermentation. Close the lid tightly and turn the jar upside down to mix the honey and floating garlic cloves. These steps are especially important to follow during the first week since that is when the fermentation process is taking off!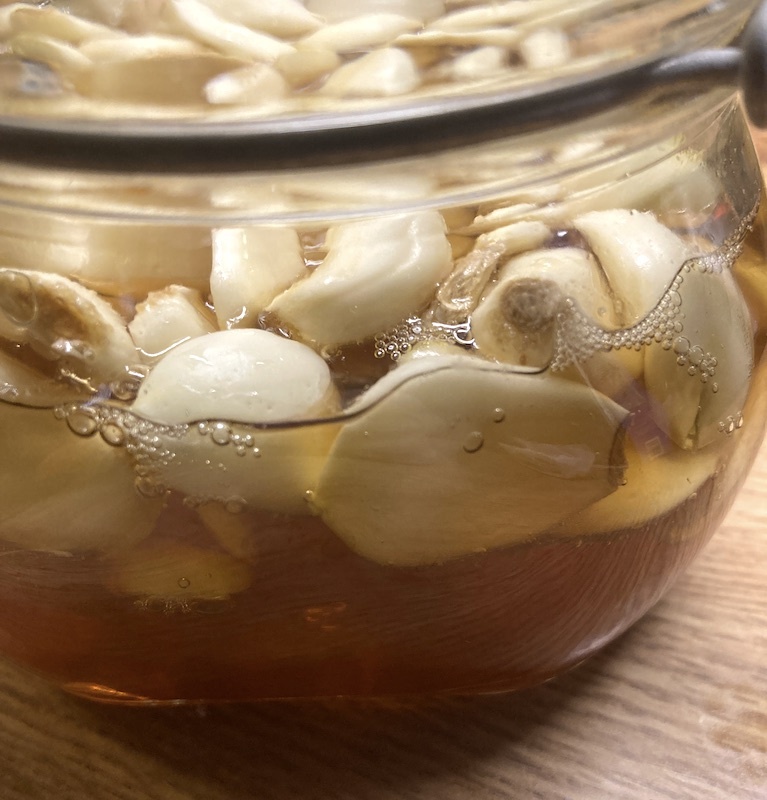 Taste it occasionally with a clean spoon. Once you are happy with the flavor, strain the cloves out. If you want the flavors to get deeper, leave the cloves in as long as you like! 
After a while the bubbles will calm down and the fermentation process will stall. You can store the honey in a cool, dark area for up to a year, but you'll be lucky if it lasts that long!
How to use Fermented Garlic Honey:
Feel a little sniffly and sneezy? Take a spoonful of the garlic honey as a cough syrup, or mix it into warm water. If you're a serious garlic lover, eat one of the garlic cloves whole! 
This honey and garlic ferment is a culinary delight. Try drizzling the garlic honey over pizza or warm bread. Stir it into soups, marinades, or dressings, or even use it to make a batch of savory honey butter.
If you feel fancy, you can dehydrate some of the honey-soaked garlic cloves and use them as a seasoning!