It's February 12th, do you know what your Valentines plans are? If you're like us, you and your honeybee prefer presents on the practical side that y'all can enjoy every day together.
10 Foolproof Valentines Gifts for
the Honeybee-Lover in Your Life
1. The High Fiber Tea Towel or Napkin Set in Bee Pattern - $11.00 - $36.00

These beautiful cotton tea towels are perfect for handling in the kitchen, whether you're drying your hands, holding a fresh loaf of bread with them, or setting it on your lap at the dinner table. 
2. Handmade Honey Dipper from Woodcraft by Bob - $8.00

What can we say, we love Bob Rast's honey dippers! Each one is hand-turned and unique, polished lovingly for use in your honey jars. We've even had folks bring them home as wooden toddler toys.

In case you didn't know, honey from the sourwood tree is a rarity only available in our little nook of southern appalachia. We love to gift this honey, because it feels so acutely local, capturing the hygge of home in a way that many souvenirs don't: the sun that helped these flowers to bloom, the trees of our forests, the bees in our backyard. It's mildly spicy with a citrus kick and a sweet compliment to any dessert or tea. 

Lauren's plant and insect cards highlight the natural beauty that we can find in our own backyards. Each one has a sort of magic to it, taking us back to that state of childhood wonder as we caught fireflies in jars on warm summer nights. Write a love letter to that special someone in a beautiful honeybee card.
5. Print from the Good of the Hive - $5.00 - $40.00
 
Matt Willey is the honeybee-loving artist who painted the incredible honeybee and echinecea mural on the east side of our shop. On his own, he created an organization, the Good of the Hive, dedicated to the advocacy of the honeybee, and his goal is to paint 50,000 honeybees across the US for that goal. His art beautifully depicts that aim.
**Please note, all prints are only available in-store, and not online.

Beeswax candles burn longer and cleaner than their soy counterparts, and add the sweetest hint of honey in the air. Let these locally-made, tawny tapers do the talking while you eat a romantic dinner under candle light. 
7. Boxed Set of Honey Infusions - $4.00 - $7.00 each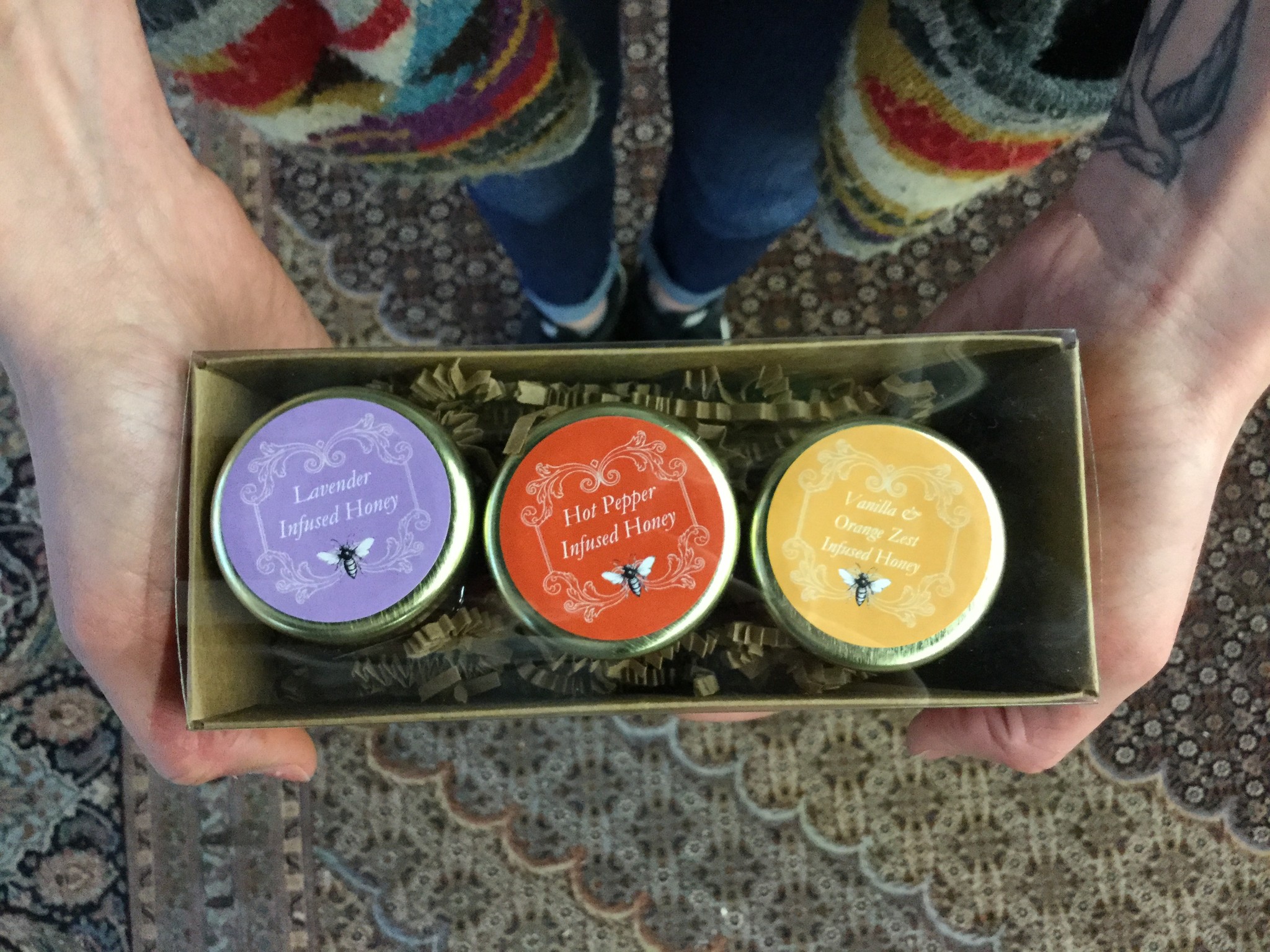 Roses for true love, elderberry for health, cardamom to spice it all up. Customize your own box of honey infusions in the shop, or call in your online order!
8. The Beekeeper's Bible by Rhys Jones and Sharon Sweeney-Lynch - $37.95

A comprehensive book of honeybee and beekeeping know-how, the Beekeeper's Bible includes history, recipes, beekeeping resources and more in this large modern-classic volume.
9. Honey Drop Necklace from Ten Rivers Jewelry - $28.00 - $36.00

With a little drop of amber behind a golden bee, these necklaces remind us how little honey each honeybee makes on her own. It's only together that a hive is able to make enough honey to sustain themselves and their keepers through the winter.
10. Class Gift Card for the Beginning Beekeeper Series in February or March - $75.00

Has your honeybee been musing about starting their own hive in the spring? Jumpstart that dream in beekeeping education with our Beginning Beekeeper series. This class will offer a whirlwind of information from hive placement to season-long management. In addition to the lecture portion, it includes a 2 hour hands on in the hive portion when the weather begins to warm in the spring.